Did you know that 9 out of 10 customers go to Amazon when they need to buy something online? So you should cover those needsand here how to sell on Amazon
Yes, you're right. That's almost 90% of all online buyers.
Amazon is one of the first platforms a buyer turns to when they need to search and compare products. Amazon's policy is all about making their customers happier by providing them with endless product choices at better prices empowered by excellent customer support. This customer-centric company has turned into a trusted destination for 300 million consumers all over the globe. Well, lucky they are…
Unlike poor sellers. It's getting harder to compete in the tangled Amazon jungles.
Nevertheless, small startups and the largest brands are thriving there. And as a retailer in the search of new market opportunities, you can't get past this eCommerce giant.
If you already have a website, social media accounts, it's awesome. You're running an outstanding marketing campaign. But it's not enough to reach your full selling potential.
You can like it or not. But you can't deny it. Amazon is the place where your product line must be presented. Because that's another platform (and the most popular one!!!) where you can reach your customers. If you don't go there, someone will take your place and get all the money that buyers might have given to you.
If you are ready to start but have no clue where to shart, we have you covered. In this article, you'll learn how to sell your products on Amazon. We will also show you the easier route that will save your time and costs.
How to sell on Amazon: Easy Start
If you are a complete newbie and have never sold anything through Amazon, the beginning might seem tricky and too complicated. But our guide will give you the general understanding of what you might need to promote your Amazon business.
So let's start from the very beginning.
Before you run the selling campaign on Amazon, you've got to complete three preparatory stages:
Define your selling strategy.
Pick the selling plan that matches your goals.
Create an Amazon seller central account.
Let's take a closer look at each of these points.
Define your selling strategy
Your Amazon selling strategy will depend on the product nature.
If you are a dropshipper or retailer and will offer products that already exist on Amazon, consider product matching. In fact, you are using the popular Amazon listing created by another seller and just update it with your offer information. It looks like this:
Are you a manufacturer and your products are unique? Sell the goods under your private brand and create your own listings.
The Yarn Kitchen Seller Brand.
Each strategy has its pros and cons. Some sellers even adopt both. Anyway, you should decide on the method that would promote your products better.
Pick the Amazon selling plan that matches your goals
It's not free to promote your product listing on Amazon. The marketplace offers two plans:
Individual

— they charge $0.99 per sale. You'll benefit from this plan if you sell less than 40 items a month and do not need advanced selling apps. You'll be able to add one product listing at a time.

Professional

— you'll pay $39.99 a month, regardless of the quantity of items you sell. You will enjoy this plan if your monthly turnover is more than 40 products and you need access to more advanced reports. Bulk product listing will be available to you within this subscription plan.
Whichever you choose, you'll also have a chance to switch between these selling plans.
But get ready that the fees are not limited by the subscription. Depending on the product price and the fulfillment type, you'll also be charged Selling, Shipping, and FBA fees.
Create an Amazon seller central account
To join the Amazon selling marketplace, you need to create a seller account either with your customer account or create a new one with your business email. To proceed with the registration you will need:
Bank account number and bank routing number
Chargeable credit card
Government ID
Tax information
Phone number
As you're done with that, you get access to the Amazon seller central. It's a portal to your Amazon account. You can edit your account information, upload new listings, update , process orders and payments, and learn how to run your Amazon listing.
how to sell on Amazon: add product listing
Now comes the difficult part — creating an Amazon listing. As a seller, you have to take care of:
product identifier (GTIN, UPC, ISBN, or EAN)
SKU (a unique alphanumeric code to identify the product)
offer details (price, product quantity, shipping options, conditions, etc.)
product details (product title, product description, bulleted list, product image, category, etc.)
keywords and search terms (so that a customer can find the product)
Depending on your subscription plan, you will either upload data for every product separately (an individual plan). Or create listings in bulk (a professional plan). Amazon provides a special Excel file template for each product category.
But it can take ages to list all your products. That is why we are suggesting a much easier and faster way — use our SellerSkills platform for listing management. We are available on Amazon Appstore or you can use our website to dramatically simplify your life when you need to create, edit, or manage your Amazon listings.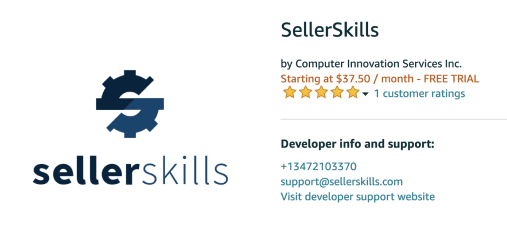 Let us show you how it works. There are two possible scenarios for creating an Amazon listing with SellerSkills. You can either import data from other marketplaces or your computer. Or you can add a new item manually in the SellerSkills app.
How to import Amazon listing with SellerSkills
There's no simpler way to add an Amazon listing than just to import it. SellerSkills makes it as easy as a cakewalk.
There are three ways to reach the import feature in the SellerSkills app. Follow the link and get detailed instructions in our knowledge base.
You can build successful Amazon listings with less stress and almost no effort when importing listings with SellerSkills.
How to add a new product with SellerSkills
SellerSkills allows you to gain advanced inventory management. You can upload, edit, control your Amazon listings. As well as handle orders, keep an eye on your stocks, and check whether your selling strategy works thanks to the detailed report.
But to get advantage of all those perks, you will need to add items to your inventory. Let us show you how easy it is to add a new product through a SellerSkills platform. Go to our knowledge base to get to know the drill.
There is one more way you can add a new product to the marketplace by using SellerSkills. You can use any unique identifier (ASIN, GTIN, EAN, GCID, or UPC) of the product already existing on Amazon and import the listing to any other channel. Thanks to this feature, you no longer need to manually add product details like brand, condition, weight, size, package dimensions, price, etc. across several platforms.
This data is being automatically synced across Amazon and selected marketplaces. So, literally, you add new products to multiple channels just in several clicks. This option significantly saves time you might have spent on uploading the same products to new marketplaces.
How to sell on Amazon: optimize your listing so that it finds its buyer
Can you create an Amazon listing on pure intuitive level? SURE.
But then don't expect that customers will line up to purchase from you. Because Amazon has its internal rules and search algorithms. Just like Google or Bing.
To explain you how it works, let's consider an example from the customer perspective.
Jane needs a new dress. She knows that she would like to purchase a red casual dress, size 10, of mid-length. So, what would she type in the Amazon search bar? "Outstanding dress to look like a queen," or "red midi casual dress size 10?"
Of course, the second query. Because it is specific and will show only those results that meet her requirements.
But why does she see these specific results? Because sellers know the trick.
They have studied Jane's behavior and figured out HOW she was going to search for that red midi casual dress. And they have optimized their listing so that they meet her request.
What do you think? Are there other beautiful red dresses out there on Amazon? Sure thing.
But they will never find their TARGET buyer because their retailers failed to create the listing with precise and accurate information.
Now let's come back to you. What type of a seller would you like to be? The one who gets noticed or the one who is satisfied with their 5 orders a month?
If you are the first type, then read on. We'll share some tips on how to optimize your title, bullet points, description, and image so that Amazon ranks your listing and matches you with your potential buyers.
Optimize your title
Create a good title, and your product will show up in search results (both on Amazon and other search engines), browse pages, and target ads.
Keep it up to 200 characters
Avoid promotional phrases like "100% quality guaranteed," "best offer," etc
Capitalize the first letter of every word, but for 'the, and, or, for, a, an, in, over, with'
Include product-identifying information like type, size, material, color, quantity
You can find more information in the seller central account.
Optimize your bulleted list
Bullet points help a buyer find out whether the product is a good match for them. Also, it counts for Amazon search and external search results.
Include factual and descriptive information
Show benefits rather than features
Add product dimensions, size options where relevant
Begin every point with a capital letter
Do not use semicolons in the end of each point
Do not capitalize wordsStart every point with the same part of speech (verb, adjective, noun)
Check more recommendations on the bulleted list in your Amazon seller central account.
Optimize your images
Amazon allows you to upload up to 9 images. The image quality can either boost or kill your sales. Show your product from different angles. Show it in use. But stick to the Amazon requirements.
Use the main image with the product on a white background
Select the main picture that show the product with no accessories or additional objects
Upload images that are clear and accurately represent the product
Give preference to images that are 500 x 500 or 1,000 x 1,000 pixels
Avoid images with logos, texts, watermarks
You are welcome to find out more details about the image use in your personal seller central account.
Optimize your product description
Product description is another way to disperse keywords so that your customers find your listing. But, without any doubt, it's aim is to convince the prospect to purchase the product.
Don't make it longer than 2,000 characters
Make your description specific and to the point
Write full sentences, but keep them short and concise
Use bold font to highlight benefits of the product
Include your target keywords
Format it properly to enhance readability
Your seller central account will provide you with more detailed information on how to write product description.
Use third-party apps for analytics
As you are building your product page, put yourself into your customers' shoes. How would they find your product? What will convince them to buy? How do they make their purchase decision?
Running a business on Amazon without tracking data and analytics is the same as walking down the crowded street with your eyes closed. You never know what waits you around the corner and if this outing is truly safe. That is why using Amazon seller analytics software is a must if you would like to have a clear vision of how your business is doing. Using the SellerSpike app, you will:
Keep track of your RIO and profit
Audit your ad spendings
Track your keywords
Find new business opportunities
You'll get a clear and transparent view of everything you need to build a successful Amazon selling strategy that will skyrocket your sales and revenue.
As you are building your product page, put yourself into your customers' shoes. How would they find your product? What will convince them to buy? How do they make their purchase decision?
Once you adopt your findings in Amazon listings, you'll become a successful seller on this marketplace.
But, of course, apart from the above mentioned elements of the product detail page, there are other mechanisms that promote your listings on Amazon, namely:
FBA (fulfilled by Amazon) rather than FBM (fulfilled by merchant)
Amazon Prime delivery
Paid ads
When you use them, Amazon promotes you much more eagerly. But they are not free. So, if you want to make money on Amazon, you need to invest them first.
And one of the investments that would make your life much easier is our SellerSkills app. But this insignificant monetary contribution will save you more money in the long run. Because you will need less employees to manage your multiple selling channels without sacrifice in the productivity and the amount of implemented work.
The final word
As a forward-looking and ambitious entrepreneur, you can't ignore Amazon as another selling platform for your products. Being a leading marketplace for eCommerce business, Amazon provides an ocean of opportunities for companies all over the globe.
But the ocean can be decisive. If you don't know how to stay afloat, most likely, you'll drown.
So grab our tips and recommendations. Support yourself with the SellerSkills platform. And become a shark in the Amazon ocean.